Software patents - The Patented Video Shop and The Patented Word Processor
Ca. 957 ord.

In my struggle against European software patents I tried making an example that even normal IT users would understand. During discussions with friends I made a simple illustration of showing tabs (which is patented). People liked the illustration. This got me thinking if it was possible to make an illustration showing a lot of patents in a familiar context, so that people could relate to it.

My first attempt was The Patented Video Shop. My second attempt was The Patented Word Processor.

You can download:
The Patented Video Shop
The idea for the video shop came late 2002. Collecting the actual patents, translating them to understandible language and selecting the ones that was easy to show was very boring work and took most of 2003. The first public mockups were released 7. november 2003.

The release spurred others to make video shops in other languages. Most known is probably http://webshop.ffii.org/[1].

The original video shop had a couple of flaws:
The LZW patent (GIF) was expired.
The RSA patent was not European, so we could not go out and say that these were all European patents.
The resolution of the image was so low that it would not be pretty if blown up to A3 posters (because of aliasing).
My original Danish version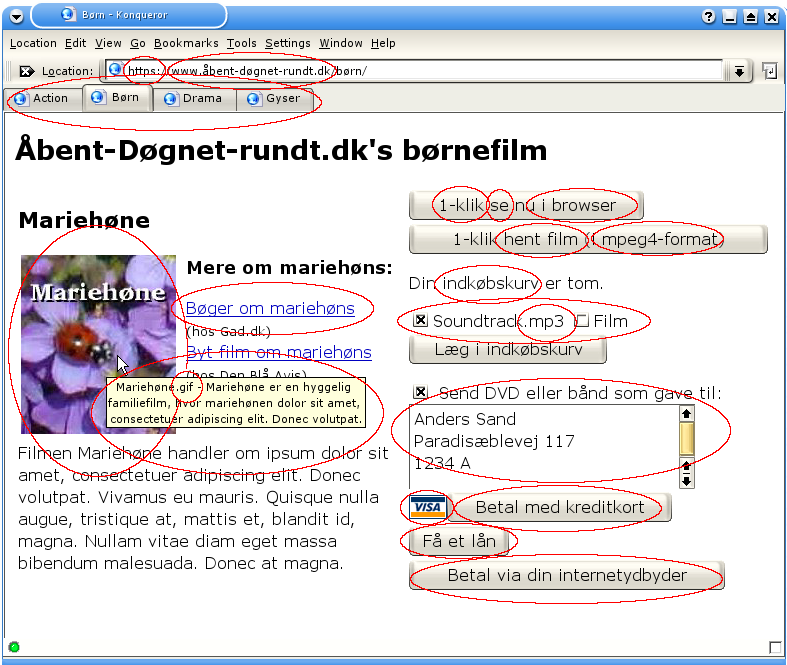 GIMP-file
åbent-døgnet-rundt.dk - ÆØÅ i domænenavne: EP1159820
[Drama] [Børn] [Action] [Gyser] - Faneblade: EP689133
Mariehøne er en hyggelig... - Pop-up vindue: EP0537100
Se - Videovisning via web: EP0933892
Hent film - Videovisning via web (samme som ovenfor): EP0933892
mpeg4-format - Udbredt videoformat til download af video: Mere end 40 patenter (herunder DK638218)
Indkøbskurv - Konceptet indkøbskurv: EP0784279
Soundtrack.mp3 og Film - E-handel med serviceydelser: DK/EP738446
Soundtrack.mp3 - MP3 er et udbredt lydformat: DK287578
Betal med kreditkort - Kreditkortbetaling via internettet: EP820620
Send som gave - Beregning af korrekt gaveadresse ud fra mangelfulde oplysninger: EP927945 (revoked 2013-01-13)
Få et lån - Automatisk lån af penge: EP715740
VISA - Digital signatur i grafikfil til at checke at det er godkendt til at modtage VISA-kort: EP0798657
Betal via din internetudbyder - Betaling via et telekommunikationsnetværk: EP0848361
1-klik - Køb ved hjælp af et klik: US5960411 (Europæisk ansøgning: EP0902381)
https:// - SSL-forbindelser benytter krypterede sockets: US5657390
i browser - Visning i et vindue i en browser: US5838906
Bøger om mariehøns - Link til samarbejdspartner: US6029141
Mariehøne.gif - GIF-filer benytter LZW-komprimering: EP129439
https:// - SSL-forbindelser benytter RSA-kryptering: US4405829
My later translated English version GIMP-file

10€-video.eu - international characters in domain names: EP1159820
[Action] [Children] [Drama] - Tabs: EP689133
Ladybird is a nice ... - Pop up window: EP0537100
Watch - Video streaming: EP0933892
Download film - Video download (same as previous): EP0933892
mpeg4 format - Widespread video format for download of video: More than 40 patents (including DK638218)
Shopping cart - Electronic shopping cart: EP0784279
Soundtrack.mp3 and Film - E-commerce with services: DK/EP738446
Soundtrack.mp3 - MP3 is a widespread sound format: DK287578
Pay with credit card - Credit card payment via the internet: EP820620
Send as gift - Calculating correct address from incomplete information: EP927945 (revoked 2013-01-13)
Get a loan - Automatic loan: EP715740
VISA - Digital signature in graphic file for checking the shop is authorized to accept VISA cards: EP0798657
Pay via your Internet supplier - Payment via a telecommunication network: EP0848361
1-click - Buy with one click: US5960411 (European application: EP0902381)
https:// - SSL connections use encrypted sockets: US5657390
in browser - Embedding a window in a browser: US5838906
Books about ladybirds - Link to affiliate: US6029141
Ladybird.gif - GIF files use LZW compression: EP129439
https:// - SSL connections use RSA encryption: US4405829

ODF-file with numbers showing each patent. PDF-file with numbers showing each patent. The Patented Word Processor Based on the expierence from the video shop I set out to create another example. This became The Patented Word Processor which was released March 5 2005 at LinuxForum. It has only European patents and the resolution is much higher. A3-posters are not a problem. The layers in the GIMP-file is used actively to show the patent numbers.
The original English version
GIMP-file
EP281742: Spell check combined word
EP214547 & EP772144 & EP693740:Anti-aliasing, stemming and hinting
EP665489: Default activate "the right" field in a new window
EP767419&EP349459 Bring to front & redraw hidden part
EP689133: Tabs
EP349459: Activate a window with mouse click
EP348031: Miniature navigator
EP743605: Enlargement of text
EP537100: Tool tips
EP621528: Multi level undo
EP249293: Pop-up menu
EP449322: Formatting text using input character
EP573262: Formatting text with control code in document
EP240909: Word processor with dead keys (e.g. accents and umlaut)
EP394160: Progress bar
EP205082: Justified text using spaces
EP262804: Spell check after each word entered
EP660248: Word Processor
ODF-file with numbers showing each patent.
Thanks
A special thank goes to Carsten Svaneborg, Hans Schou, Anne Østergaard and Erik Josefsson, who helped by finding patents, discussing issues and giving moral support.
License
The Patented Video Shop and The Patented Word Processor are released under (CC-By-SA) by Ole Tange http://ole.tange.dk. If you need it under another license feel free to contact me.
---
Note 1: The FFII had a tremendous success with this - even in Denmark. So even though the original was in Danish some Danes first discovered the FFII-version.